Your Guide To Winter Gemstones
November 5th, 2021
Our guide to gemstone jewelry for the winter season takes notes from runways and fashion blogs as well as the scenery of the season itself. Gems that mimic fresh snow or a clear winter night sky are a great option for a night out. Or bring some warmth to the cold season with rich red and orange tones. Style experts at Kirk Jewelers are here to help you pick fitting gemstones that will compliment your winter looks with ease.

Tanzanite
This gem fits seamlessly into winter styles as one of December's birthstones and ranges in color from blue to indigo to purple. Tanzanite is named for the one location in which it can be mined, Tanzania. Since it's relatively recent discovery, this stone quickly rose to popularity and for good reason. The deep, striking tones of this stone make for a breathtaking piece of jewelry. A Tanzanite gem will be right at home amongst a circle of glittering diamonds like the ones featured in this stunning fashion ring.
Topaz
Precious topaz can be found in a variety of gorgeous hues as pure topaz is colorless, but impurities allow it to take on any color of the rainbow. While Topaz is often known in its warm yellow form, we favor the icey blue version of this stone for the winter months. This gem is very durable, largely affordable, and fitting for any style of jewelry. Embrace a cool color palette this season with a blue topaz necklace as star of the show.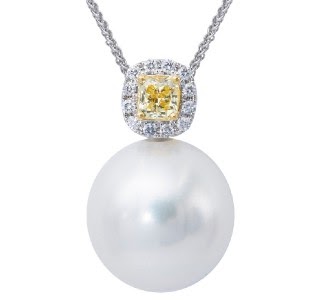 Pearls
We expect to be seeing this traditional gem gracing plenty of holiday parties and family gatherings this season. An incredibly versatile stone, it is widely available and featured in a multitude of different styles and settings. Reminiscent of a crisp white snow, the classic pearl is always a go-to, but pearls can be found in a variety of gorgeous muted colors like pink, purple, and blue. Pearls stand out in gleaming yellow and white gold settings as there is truly no other stone like them.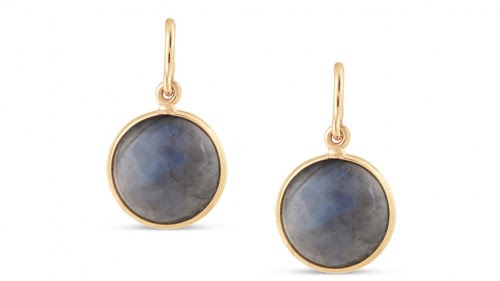 Labradorite
Labradorite is a unique stone that exhibits a quality jewelers refer to as an optical phenomena. This means that the light interacts with the contents of the stone in unique ways, making the stone appear to change color at different angles. Labradorite in particular features colors like blue, purple, green, and yellow and often appears metallic or iridescent. This interesting stone appears to contain the Northern Lights beneath its smooth surface, making it an ideal stone to don in the winter months. Visually interesting all on its own, pair this stone with a modest setting like that of these Tresor earrings.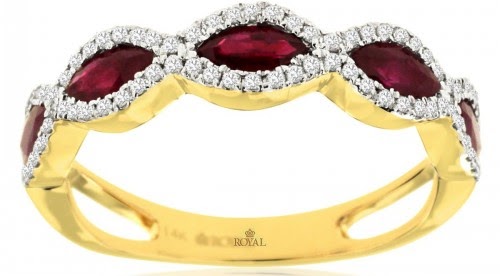 Ruby
This richly colored stone has been considered a traditional winter gem for years as the warm tone brings a bit of contrast to the cool weather. Paired with emeralds, rubies make fitting jewels for a Christmas party or gathering. They are also said to symbolize passion, prosperity, and protection, which makes them a great gift to give to a loved one during the holidays. Pair your rubies with gleaming diamonds set in a yellow gold ring for a truly dazzling effect.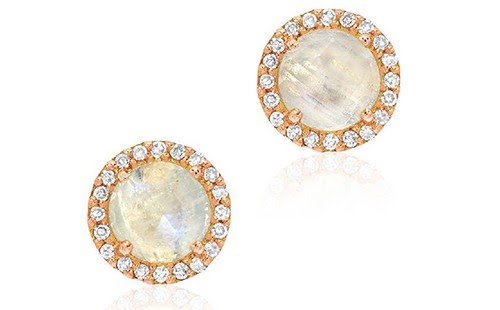 Moonstone
Though moonstone is one of the birthstones for June, we expect to see it a lot this winter season. Its pearlescent sheen will provide gorgeous contrast to the darker, muted tones of winter wardrobes. Moonstone is unique in that, while its base tone is typically white, hints of color can be seen flashing across the surface of the gem. This stone can also be found in other earthy hues, making it quite versatile. A pair of moonstone earrings will be a fantastic addition to any holiday look.
Shop Gemstone Jewelry at Kirk Jewelers
Kirk Jewelers has been serving the Florida community from our Miami jewelry store since 1947. Our ethical business practices, sense of humor, courtesy, knowledge, and outstanding service has won us customers all over the world. Conveniently located near Brickell, Pinecrest, and the Design District, Kirk Jewelers is known for matchless customer service and an incredible selection of designer jewelry. Contact us at inquiry@kirkjewelers.com for more information or browse on inventory online today.