When Is the Right Time to Buy Your Wedding Bands?
October 20th, 2021
Many dream of adorning the perfect ring, and perhaps even passing it down as an heirloom. Your wedding ring is a symbol of commitment and love between you and your partner, and it should last for generations to come. It is imperative to find wedding bands that are representative of your partnership, as well as of you and your partner as individuals. After over 70 years of guiding couples in their bridal jewelry purchases, Kirk Jewelers has compiled these tips for selecting your dream wedding band.
When Exactly Should You Buy Your Wedding Band?
Wedding rings can easily fall to the backburner during the craziness of wedding planning. Between venue selection, cake samples, and DJ interviews, some brides can make the mistake of putting off this purchase until it?s too late.
We recommend shopping for your wedding band 3-4 months in advance and making the actual purchase about two months before the wedding. This should give you ample time for any modifications like the addition of engravings or size changes.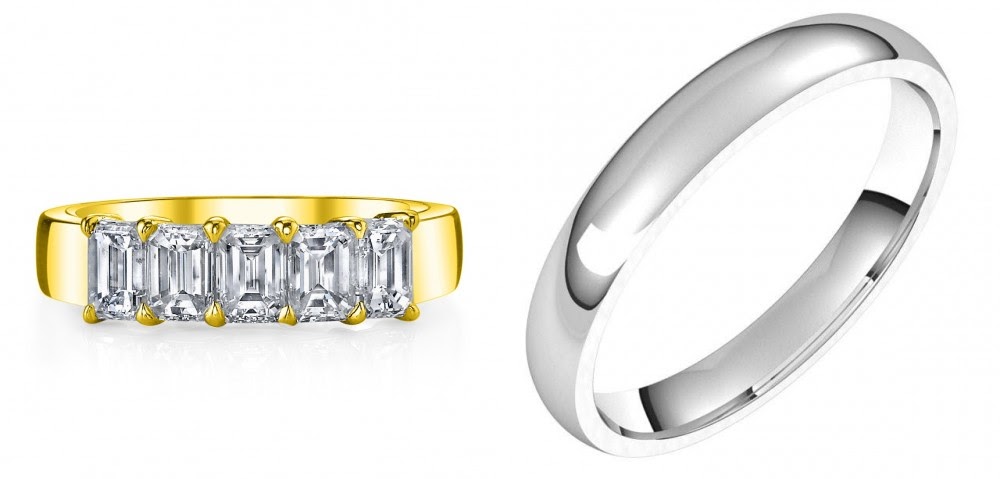 Who Should Buy the Wedding Bands?
In this modern age, when couples tend to split the check at dinner and even on rent, it has become customary for them to split the price of their wedding bands as well. Ring prices vary greatly, but are largely determined by the ring?s size and material. A simple, white gold band is going to be more affordable than a platinum or diamond encrusted wedding ring.
According to tradition, couples pay for each other?s rings. However, as with everything regarding your wedding, you can follow tradition as much as you wish. While some pairs split the entirety of their wedding bill, including the rings, evenly, others might do so relative to income. Do what makes the most sense for your relationship and financial situation.
Indispensable Wedding Band Shopping Tips
Shopping for your wedding band should be an exciting experience. You only wear your wedding dress once, but your wedding ring will be on display for generations as a symbol of the timeless love you and your spouse share for each other.
Here are some tips on selecting the ideal wedding ring.
Bring Your Engagement Ring
While you likely rarely take it off in the first place, be sure to bring your engagement ring with you when shopping for your wedding band. Though some women wear their wedding rings on their own as part of their everyday look, many brides opt for displaying their wedding band in conjunction with their engagement ring. Wear your dazzling engagement ring to the jewelers to fully visualize if the rings will complement each other. They won?t have to match exactly, but it?s important to ensure the styles won?t clash or appear clunky when worn together.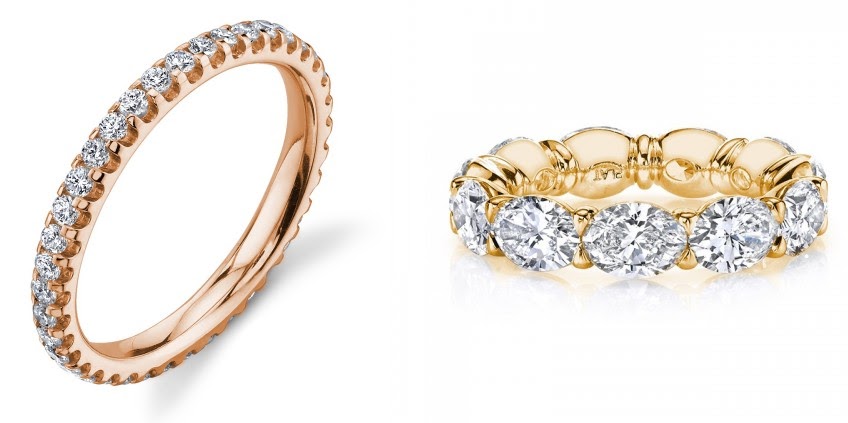 Try a Variety of Styles
Try on as much as you can — even if the ring doesn?t seem like your style. It?s difficult to imagine how a piece of jewelry will look on your person, and a ring that appears unfit when viewed through glass could actually be the perfect touch for your unique taste. Consider a yellow gold eternity band with oval cut diamonds, or a vintage rose gold ring featuring dainty diamonds.
Take Your Time
Avoid browsing the jeweler?s when you have limited time or feel added pressure to decide. This should not only be a stress-free event, but will hopefully feel exciting and enjoyable. Find ways to fill the day with joy by grabbing a meal with your love or eagerly discussing the upcoming wedding over coffee.
Consider Engravings
Engraving your ring lets you go one step further in conveying your affection. An engraving could be a timeless quote, a significant date, or a set of initials. This decision can be made together, or you can choose to surprise each other by revealing your engravings during the ceremony. If you do decide to go this route, be sure to give your jeweler an extra month or two to complete your customized order in time.
Find a Reliable Jeweler
Select a jeweler you can trust. They will be responsible for the ring?s upkeep, and as such, they should offer a dependable warranty. It will be their job to clean, repair, and refit the ring if need be.
Shop Elegant Wedding Bands at Kirk Jewelers
At Kirk Jewelers, we have an affinity for luxury and refinement. That's part of what makes us one of South Florida?s top boutiques for anyone in search of authentic and stylish timepieces, necklaces, and rings. Let us help guide you on your path to elegance and matrimony. Visit our showroom in Miami, Florida for a wide selection of wedding bands and engagement rings, or call us at (305) 371-1321 to discuss your dream wedding ring with one of our expert jewelers.