Delightful Diamond Combos
October 5th, 2023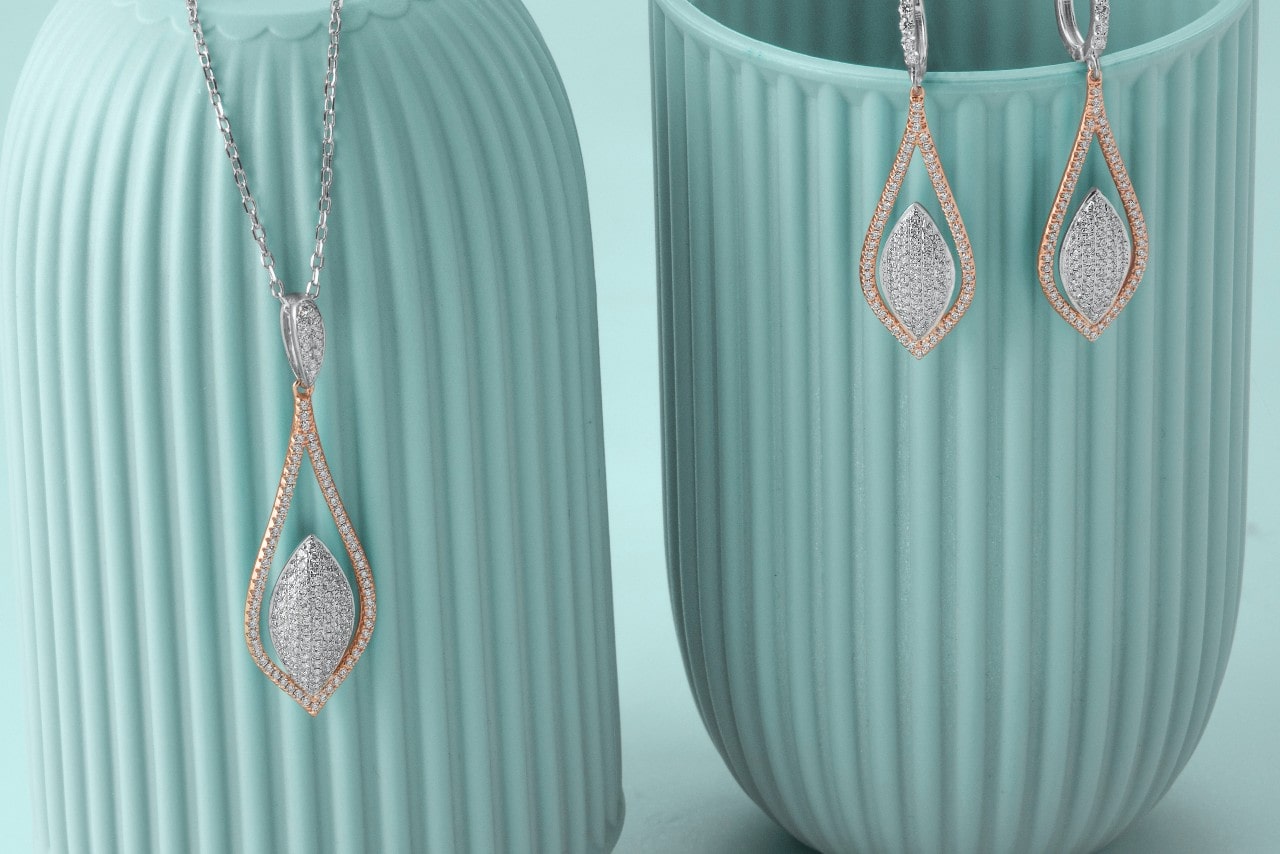 Diamond jewelry possesses an unparalleled allure, charming the heart with its distinct sparkle and universal beauty. There's something magical about the way diamonds catch and refract light, making every gesture shimmer and dance. Pairing multiple diamond pieces together elevates any ensemble to a realm of sheer brilliance. The ensemble doesn't just shine; it commands attention. At Kirk Jewelers, the inventory is rich with incredible designer diamond pieces, each crafted meticulously to be a showstopper. Beyond our phenomenal collection, our dedicated personnel are passionate about guiding clients in curating combinations that not only dazzle but also resonate with their unique aesthetic. It's more than just jewelry; it's a glittering show of light, crafted to express the individual preferences of its wearer.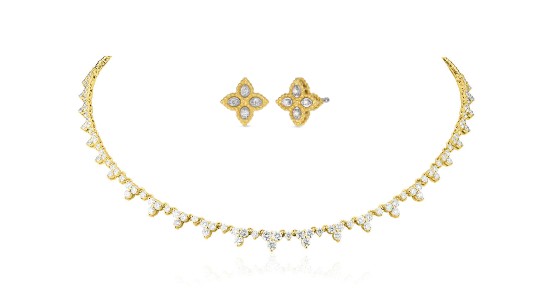 Dainty and Delicate
Pairing jewelry that boasts a delicate finesse can elevate an outfit with a touch of understated glamor. Choosing pieces like these Roberto Coin Princess Flower earrings, adorned with subtle diamond accents, alongside this Anne Sisteron diamond choker, with its minimalist yet regal charm, achieves an effect that's both elegant and unassuming. This style strategy introduces a muted shimmer to one's ensemble, allowing for a versatile adornment suitable for both day and evening. Dainty and delicate pieces, when combined, create a harmonious synergy that provides just the right amount of sparkle, enhancing the wearer's natural beauty without overwhelming it.
Sophisticated and Timeless
Embracing timeless beauty is about selecting jewelry pieces that transcend fleeting fashion trends. When paired together, this white gold diamond bangle from our own Kirk Signature collection and Roberto Coin's white gold diamond circle necklace create an ensemble that radiates classic charm. Their versatility lies in their ability to effortlessly complete any attire, from casual daywear to cultured evening gowns. Such pieces are a testament to enduring style, acting as trusted staples in one's jewelry collection. The harmonious blend of these two accessories ensures a look that is both polished and poised, amplifying the allure of any ensemble they grace.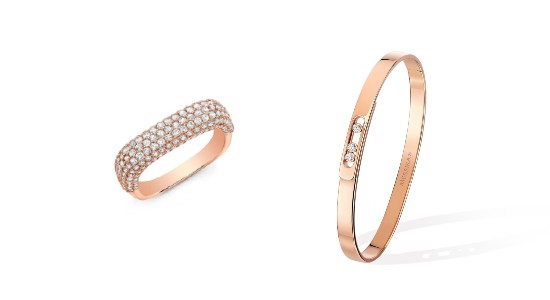 Bold and Feminine
In the realm of fine jewelry, the perfect blend of femininity, trendiness, and daring can lead to captivating ensembles. Diamond-studded rose gold pieces, with their warm tones complemented by the brilliance of diamonds, are particularly potent in achieving this desired effect. Take, for example, this Anne Sisteron fashion ring: its intricate design exudes a delicate femininity while making a definitive style statement. Pair it with Messika's elegant and bold rose gold bracelet, and you have a combination that is both trendy and classic. Such pairings not only accentuate the wearer's individual style but also confidently proclaim a love for jewelry that's both fashionable and daringly distinctive. Choosing such standout combinations allows one to embrace a look that's undeniably chic and unapologetically bold.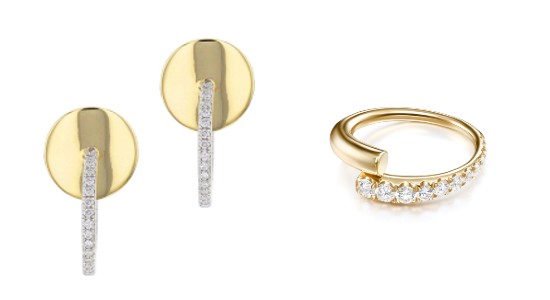 Sleek and Modern
As all fashion fanatics know, jewelry can serve as a powerful medium to express one's personality. Opting for sleek and modern diamond jewelry, such as these Phillips House earrings paired with this unique Melissa Kaye ring, speaks volumes about one's affinity for contemporary aesthetics. The distinctive and unexpected design of the earrings, combined with the fluid silhouette of the ring, create an ensemble that is both avant-garde and elegant. Such combinations not only enhance the beauty of the wearer but also communicate a confident, forward-thinking personality. Embracing such modernistic pieces showcases a penchant for innovation, while staying rooted in timeless luxury.
Shop Pairable Diamond Jewelry at Kirk Jewelers
For those with an eye for the finest, Kirk Jewelers offers an exquisite collection of diamond jewelry, perfect for crafting irresistible pairings. Our pristine Miami jewelry store is a treasure trove of timeless elegance and contemporary flair. Whether you're curating a signature look or seeking the next piece for your collection, Kirk Jewelers is the ultimate destination for discerning enthusiasts. To truly immerse yourself in the world of fine jewelry, we invite you to request an appointment for a personalized consultation with one of our dedicated team members.