Best Jewelry Gifts for Bridesmaids
September 20th, 2022
While a wedding is the celebration of a couple's romance and commitment, it is also a celebration of our relationships. That's why we have family walk us down the aisle. That's why we have bridesmaids. Whether they're your friends or family, bridesmaids are an important part of your life. Show them just how much they mean to you with fine jewelry. It will forever remain a beautiful and sentimental accessory that reminds them of your special day and their bond with you. Find the perfect gift with these tips from Kirk Jewelers.
Theme Them
A wedding theme ties the whole event together with memorable imagery, as well as makes it easier to pick out decorations.You can throw in some palm leaves and fruity drinks, then you've got yourself a tiki-themed wedding. Give your bridesmaids something in accordance with this theme.
For example, if you have a nature-inspired wedding, try some floral jewelry. These gorgeous 18k rose gold floral studs have a glamorous diamond pave, creating a vivid, whimsical accessory. Alternatively, add something blue to the wedding with these rock crystal and lapis lazuli studs. They're stunning, breathtaking, and eye-catching.
Birthstone Them
Another approach is to make the jewelry more personal. Doing so illustrates you care about their individuality and makes a more intimate statement. Consider adding their birthstone to their jewelry gift. First conceptualized in Ancient Rome, every month has a corresponding gemstone (or two). Jewelry brands make a wide range of jewelry using these stones, ensuring there's something to suit every taste.
If a bridesmaid is born in July, consider giving them a ruby and 14k yellow gold fashion ring. It has a marvelous vintage style exemplified by marquise cut rubies accentuated by diamond halos.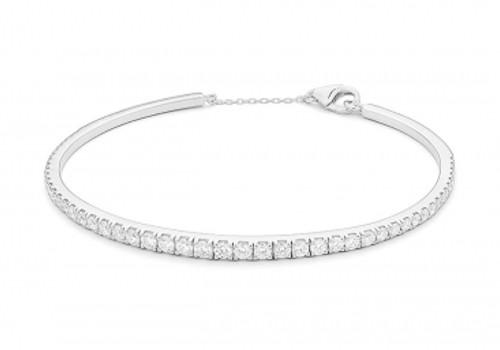 Engrave Them
Skilled jewelers can etch a name, quote, phrase, or date into a piece. While not all items can be engraved, most can. This means that you can get any of the marvelous items mentioned in this guide engraved. They can convey something as simple as the wedding date or something more intimate or personal. If you've chosen the latter, make sure it's a message that reminds them of your special relationship.
This glamorous 14k gold bracelet from our in-house collection is an exceptional gift. Suitable for engraving, its luxurious design is also highly refined and sophisticated as well as versatile and easy to pair with any ensemble.
Find Sublime Jewelry for Bridesmaids at Kirk Jewelers
Kirk Jewelers is Miami's source for romance, luxury, and fashion. Our vast selection has been carefully chosen to cater to the fashion-conscious population of Miami. With our team of expert goldsmiths and gemologists, we can guarantee peerless customer service.
If you're in the Magic City, there's no better place to get jewelry for the wedding than Kirk Jewelers. Our showroom at Brickell City Centre is full of wonderful accessories and people. Call us at (305) 371-1321 or email us at Inquiry@KirkJewelers.com to learn more.